The first Washington elementary school was built in 1907 at a total cost of $12,000. The original building burned down and was replaced in 1930 with a $60,000 building at Third and Seminole. A 1952 addition of an all-purpose room and classroom cost $73,727.
The last classes were held at this school in May 1978.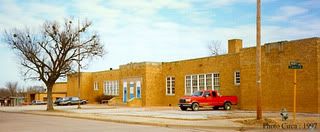 The building housed the state Regional Educational Services Center for many years, but that program now leases space at the old McKinley grade school. The building also once housed indoor batting cages, etc. for the district baseball program. Washington School was sold to Restoring Life Ministries in March 1998 for $8,000. The property was then sold by that ministry on 2/1/2006 for $30,000 to private owners.
Gallery Below
Bibliography
Special credit & thanks go to Granger Meador & Bartlesville Area History Meusem for their historical photos.
If you wish to support our current and future work, please consider making a donation or purchasing one of our many books. Any and all donations are appreciated.

Donate to our cause Check out our books!